【授权验证】
网址:https://www.whmcs.com/members/verifydomain.php
【授权类型】
A. 原厂版本
永久授权如果想用最新版本每年要交$99费用,不用最新版不用付费,但只能使用最新版本为support/upgrade到期时的版本。
以前的终身版官方价格是$250带WHMCS链接,$325不带链接。
如果是在官网买的终身授权,可以账户间push一次,push费用$20。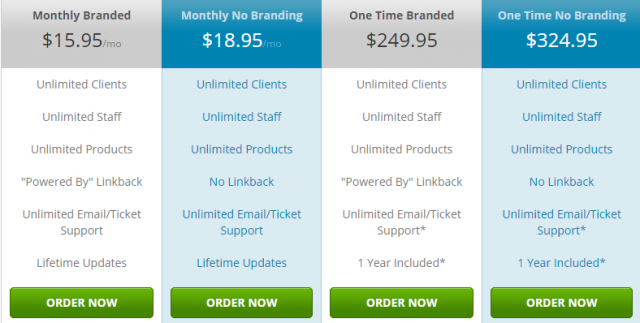 已停售终身版,但可以通过购买已购终身版的账号获得。
1. 注意不要急于修改除邮箱以外的其他资料,而是先提交工单申请修改邮箱。试图让客服相信确实不存在什么账号转让。因为WHMCS官方不鼓励。
2. 如果账号关联的升级套餐已过期,需要购买年付99美元的升级套餐,才能下载最新安装包。
3. 即便从其他途径获得最新安装包,安装成功后,进入后台时也会提示授权码关联的升级套餐已过期,无法支持当前较新版本。
报错:
Renewal Required

You are using an Owned License for which the support & updates validity period expired before this release. Therefore in order to use this version of WHMCS, you first need to renew your support & updates access. You can do this from our client area @ www.whmcs.com/members/clientarea.php

If you feel this message to be an error, please contact us @ www.whmcs.com/support
在售的均为月租版,区别在所支持的客户总量。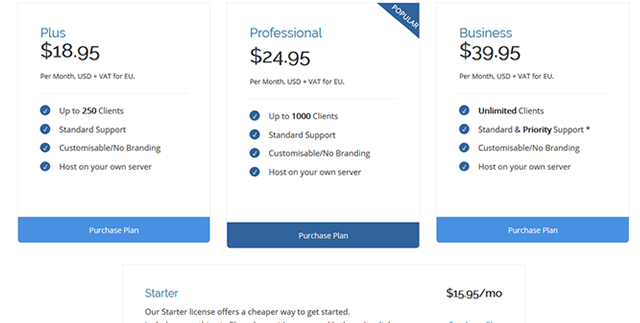 B. 代理版本
仅能在主机商的IP范围内使用。
HostGator License
通过购买WHMCS的合作主机商那里的空间,来免费获得正版的授权。
获取:https://www.whmcs.com/hostgator/
文档:https://support.hostgator.com/articles/whmcs-guide
参考:http://www.lc365.net/blog/b/14803/
CENTRIOHOST版
官网:https://www.centriohost.com/
注意:This development Reseller-UI version of the WHMCS only eligible to use within CentrioHost/HostSEO Networks IPs Range.
备注:WHMCS v7.2.2 rev.3 – Development Edition, Unbranded Release Date: June 29, 2017
授权:HOSTDEV-8ABCE350F60A2FE39F78
【授权交易】
参考:https://www.lowendtalk.com/discussion/138577/selling-owned-whmcs-licenses-branded-and-unbranded-lifetime
Selling Owned WHMCS licenses (Branded and Unbranded) Lifetime
I have owned these licenses for a couple of years and no longer need them.
1 x Unbranded license – Price is $620 (Price includes $20 license transfer fee)
1 x Branded license – Price is $520 (Price includes $20 license transfer fee)
Support is currently expired on both licenses.
If you are interested, PM me for the keys and follow the official WHMCS instructions below:
Open a ticket with WHMCS to verify the eligibility of the license transfer.
Once eligibility is confirmed, send me the payment and provide me your name and email address on your WHMCS account.
I will submit the transfer request and the license shall be yours.
Accepted payment methods: PayPal (Trusted members and verified paypal accounts only), Crypto (Bitcoin, Ethereum, Litecoin)
参考:https://www.whmcs.com/terms-of-service/#transferpolicy
License Transfer Policy
WHMCS permits Owned Software Licenses to be re-sold or transferred once per license key (fees apply) pursuant to the terms of transfer set out in the EULA. Owned Software Licenses are not eligible for transfer until at least 3 months have passed from the date of purchase. Owned Software Licences obtained via a reseller are excluded from this policy and are not eligible for any re-sales or transfers. Leased Software Licences cannot be re-sold or transferred under any circumstances.
Before any sale or transfer, please contact us to verify eligibility of your license key. Upon request of the transfer, WHMCS will issue an invoice for the license transfer fee. Once paid, WHMCS will request from you the name, email address and details of the new owner for the license to be transferred to. All transfers are final and cannot be reversed.
Addons may be transferred between licenses within your own client account but not resold or transferred to other accounts.